Nestled amidst the picturesque towns of Umina, Terrigal, and stretching beyond to Wyong, the Central Coast of NSW boasts a coastal ambiance. The region experiences a range of weather from mild to scorching summers with heavy UV exposure, to crisp winters accompanied by sporadic rain showers and energetic winds. Such a diverse climate calls for a composite decking solution that not only enhances the area's natural charm but also robustly withstands these unique weather elements. 
Since 1999, Brite Decking has been at the forefront of transforming outdoor spaces, pioneering the introduction of composite decking in Australia. With a drive rooted in quality, innovation, and unwavering commitment to customer satisfaction, Brite Decking has left a lasting legacy in composite decking central coast for commercial and residential projects.
Brite Decking Titanium Range – The Composite Decking for Central Coast
While there are a range of composite decking options available in the Central Coast, Brite Decking's Titanium Range stands out as the ultimate choice. Its weatherproof design, enduring elegance, and solid durability make it a cut above the rest. The Titanium Range reflects a harmonious blend of aesthetic appeal and engineered resilience, tailor-made to brave the Australian weather while adding a touch of sophistication to your outdoor space.
In this article we share the 6 main reasons why our Titanium range is the best choice for composite decking for the Central Coast NSW
1. Resolute Shield with Dual Layer ASA Capping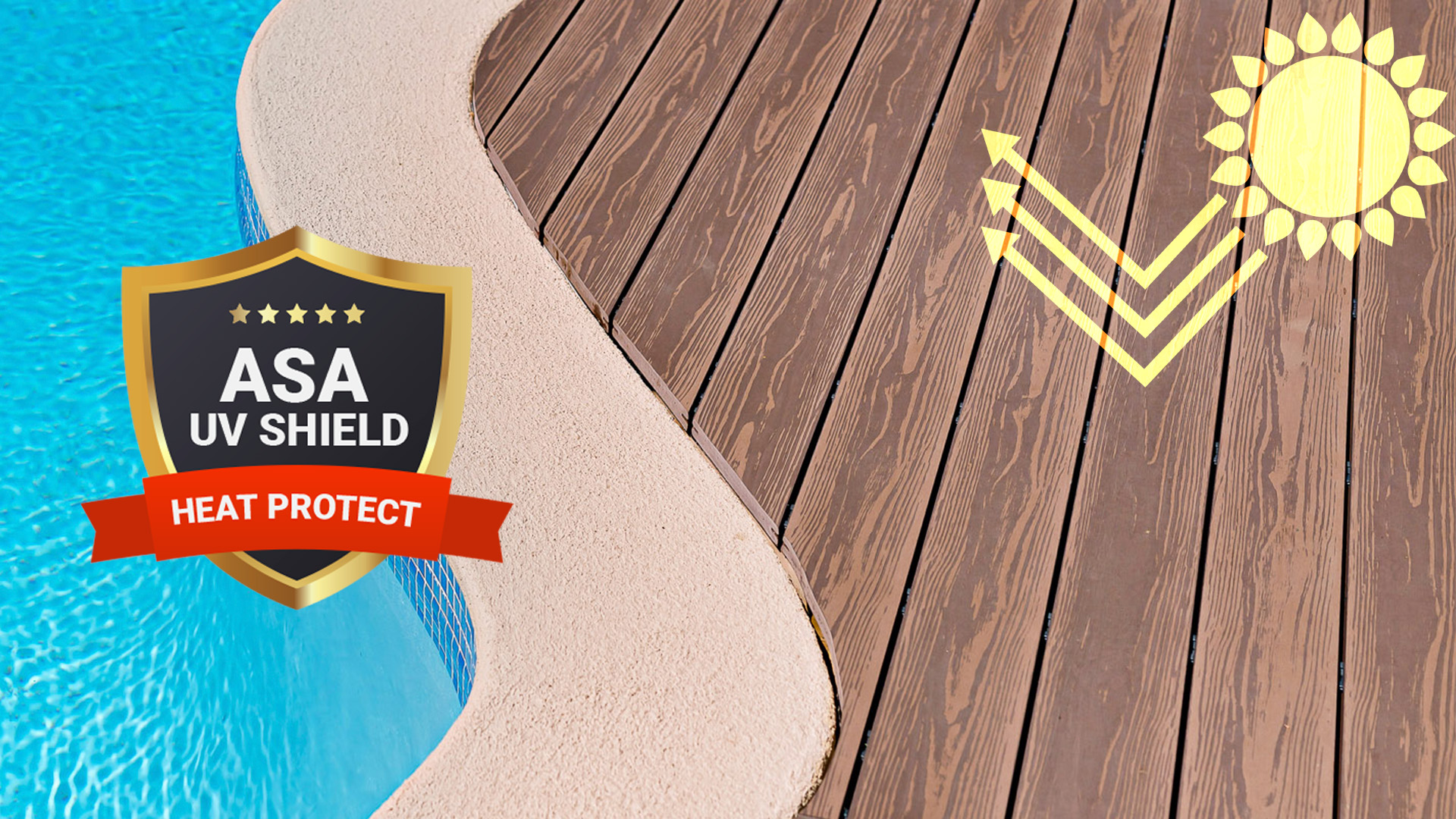 The Central Coast's beautiful summers come with a fair share of high UV exposure, which is why the Titanium Composite Decking is engineered for superior weather resilience. One of the defining features of this range is its Dual Layer ASA Capping. Initially, ASA was engineered by the automotive industry to prevent car dashboard cracking, but has been adapted to shield the Titanium composite decking range. This dual-layer ASA shield provides an unbeatable defense against the formidable Australian sun and menacing UV rays, ensuring that the vibrancy of your deck remains untouched, with minimal weathering and staining.
2. Safety at the Forefront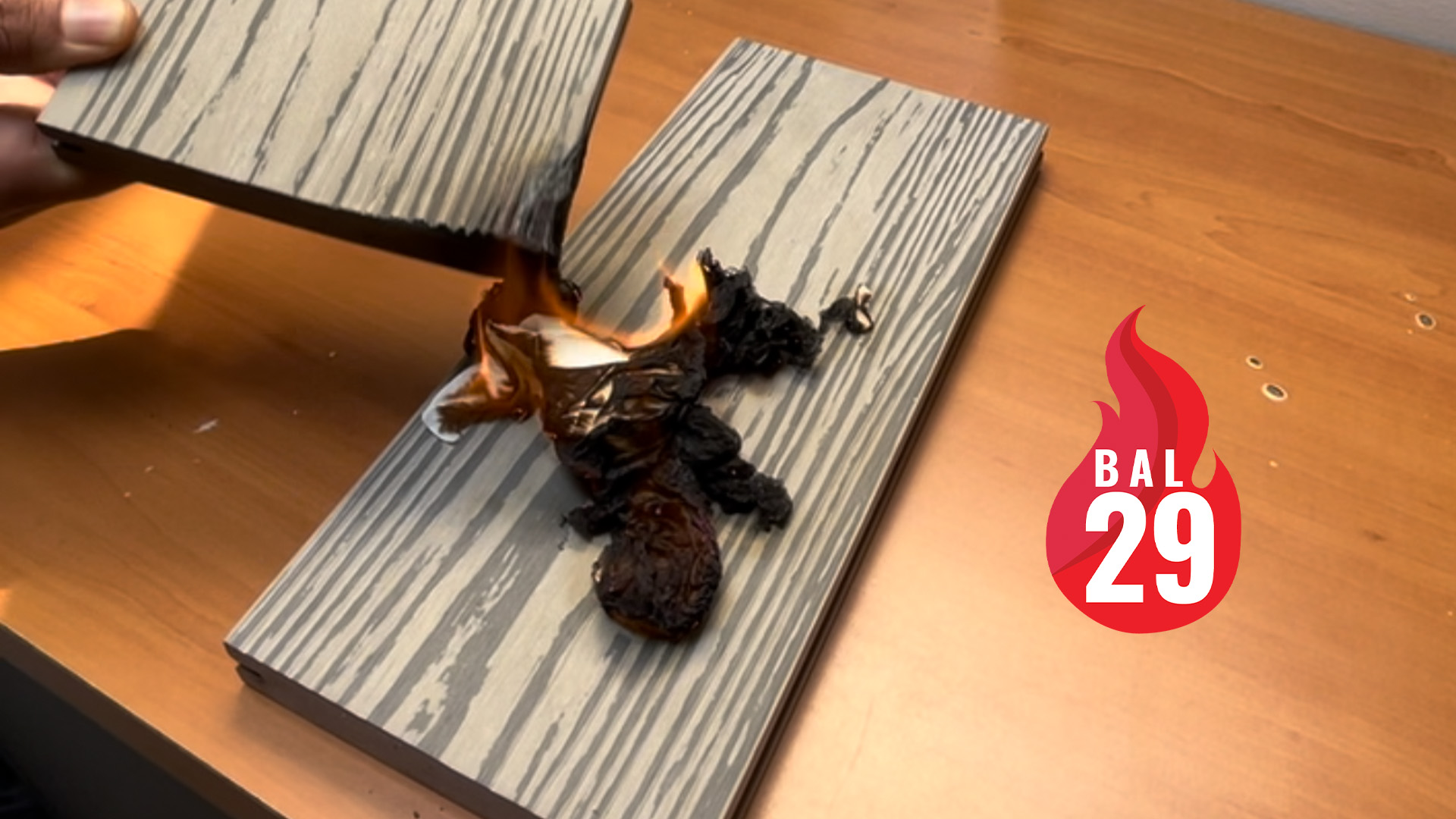 Central Coast summers can be dramatic – the idyllic poolside scenes versus the looming threat of bushfires. Australia is no stranger to these destructive natural disasters, especially in hot and dry conditions. Bushfires can escalate rapidly, endangering lives and properties. That's why the Titanium Composite Decking range is designed with safety as a top priority. It proudly carries a BAL-29 (Bushfire Attack Level 29) certification, a testament to its ability to withstand bushfire conditions. Additionally, the integration of fire retardants and UV inhibitors further fortifies the decking's ability to resist fire.
3. Anti-Slip Assurance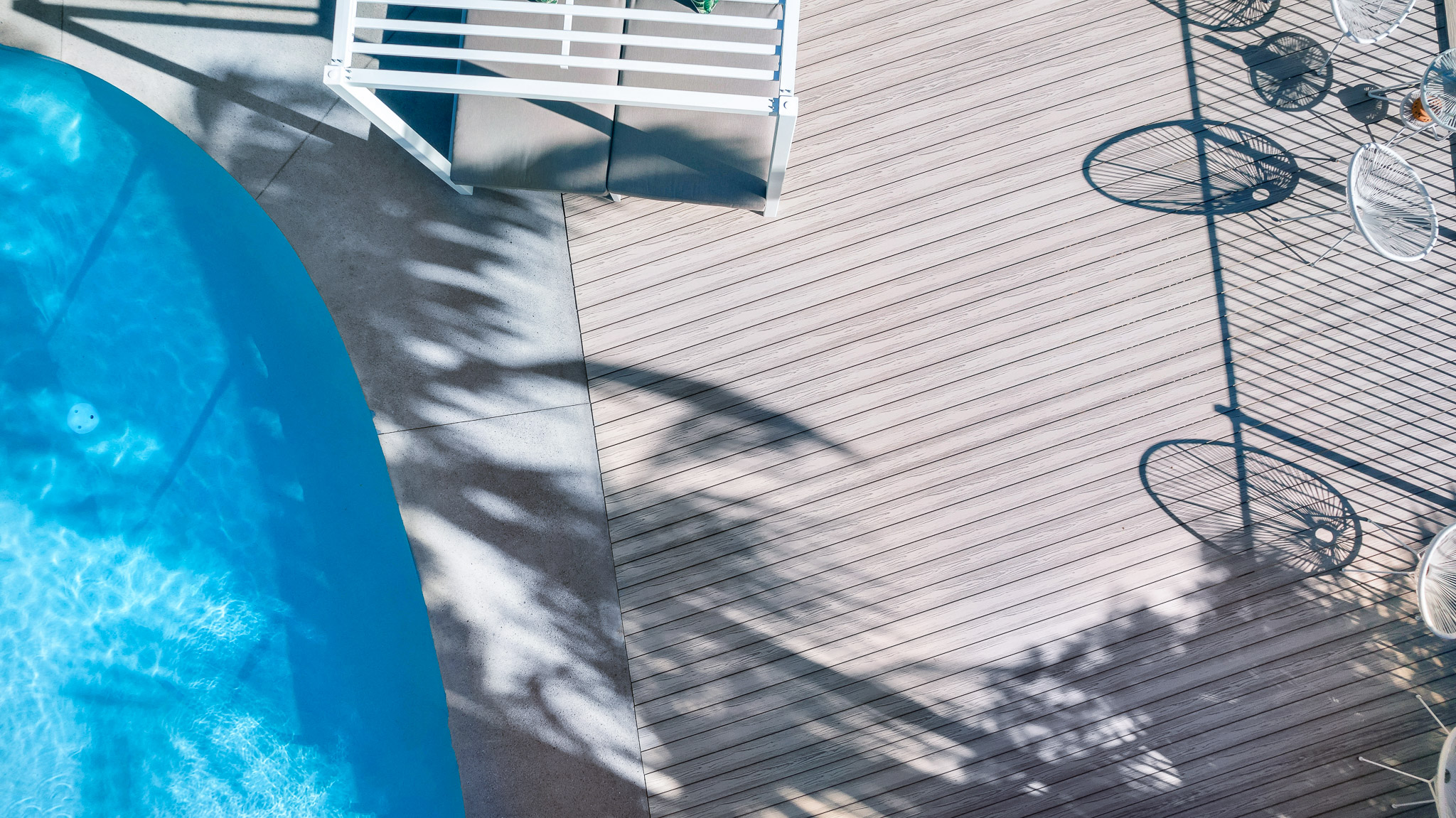 Safety remains paramount with the Titanium Range, as evidenced by its industry-leading P5/R11 anti-slip rating. This commitment to safety ensures every step on your deck is secure, even when wet. This feature is especially crucial in areas near the pool, where water can create slippery conditions, safeguarding families, adults, and children during the summer season.
4. Robust Core Features Tailored for Coastal Living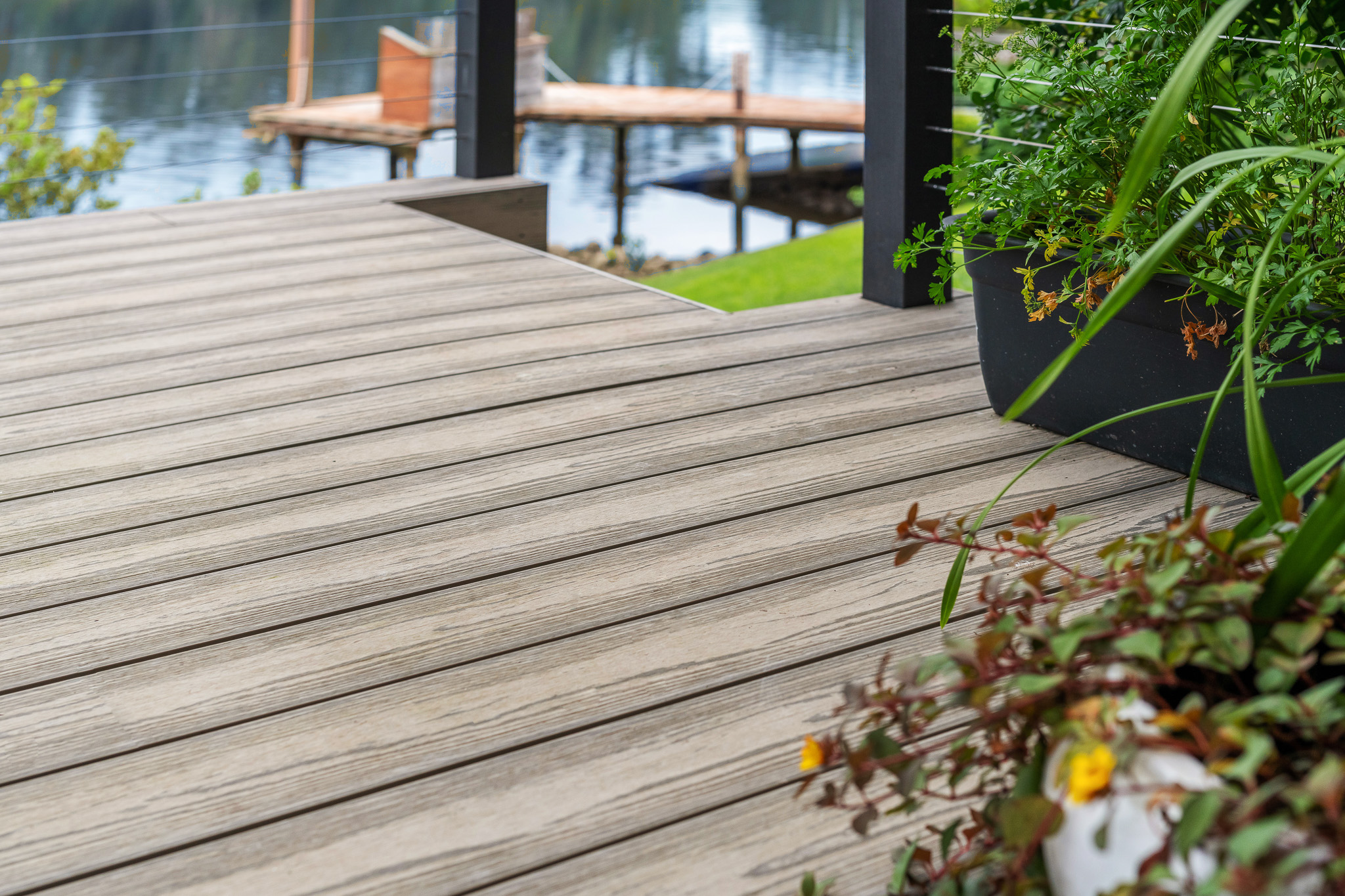 The core of Titanium Composite Decking is a meticulously crafted blend of PVC and wood composite, infused with new polymer and recycled wood fibers. The result is a dimensionally stable and non-porous material, ideal for coastal properties across the Central Coast. The core design significantly minimizes staining and water absorption, a crucial feature when living close to the water.
5. Aesthetic Brilliance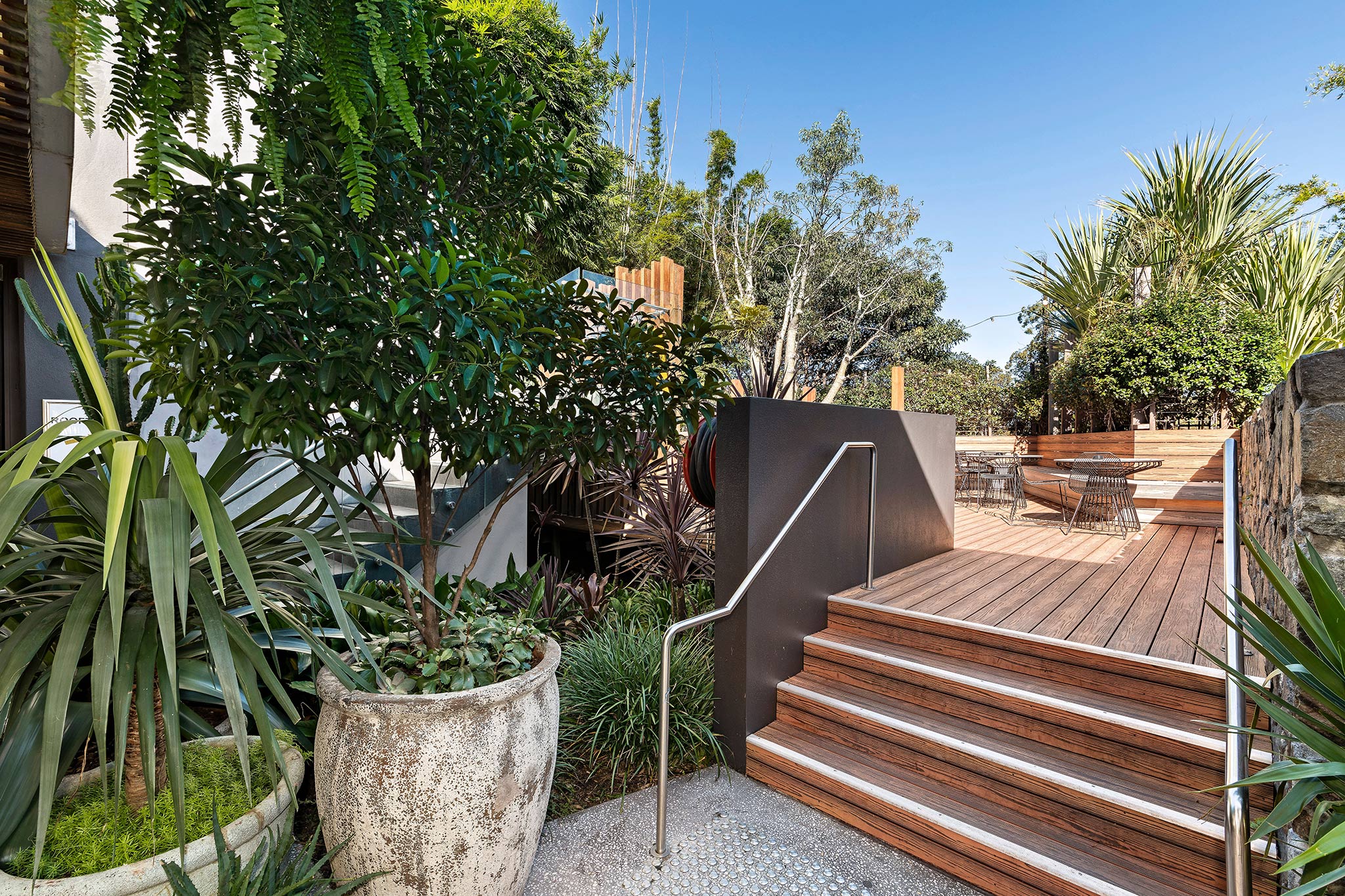 The Titanium Range does not just stop at being robust and safe; it extends into the realm of aesthetic elegance. With a tone selection finely tailored to match popular Colorbond colours and various colour schemes preferred by designers across the Central Coast, there is a colour option to suit every property's unique persona.
5. Value that Speaks Volumes

While many offer composite decking, few match the unbeatable value of Brite Decking. We step ahead by providing free fixings with every purchase, a testament to our commitment to providing value, unlike our competitors. We also service the Central Coast region twice a week from our Sydney based warehouse – in stock and on demand.
Read to Build your Composite Deck on the Central Coast?
Your deck isn't just some extra space at your house; it's an extension of your home and your unique style! When you opt for Brite Decking's Titanium Range, you're not just choosing decking; you're choosing to showcase your personality. 
Take a look at some of our amazing Titanium projects and videos to see how this range can elevate your outdoor area, combining durability with fantastic design. With over two decades of experience, Brite Decking is the reliable friend you need to enhance your outdoor space.
Explore our outstanding Titanium Range and step into a world where quality blends seamlessly with beauty, unveiling the finest composite decking for the Central Coast. Your dream deck is just a phone call away!
Have a question or need a helping hand? Give us a call on 1300 481 664 or simply completefill out our contact form and a customer service representative will be in touch!
Happy Decking!