Composite decking is the perfect choice for beautifying your outdoor spaces or increasing the cost of your property, offering durability, low maintenance, and aesthetic appeal. One of it's main perks is the range of  composite decking colours,compared to timber decking. At Brite Decking, we take pride in offering an extensive spectrum of composite decking colours tailored to align with the diverse preferences and requirements of builders and homeowners across NSW, QLD, VIC and South Australia.
In this article, we explore the different composite decking colours that we offer and which products they are associated to.
Our Composite Decking Colours
Affordable Beauty – The Urban Eco Range:
For those on a budget yet unwilling to compromise on quality and aesthetics, the Urban Eco Range is a stellar choice. This line offers hollow sided decking with a dual colour option.
A touch of mountain ash or charcoal grey can lend a modern, sleek vibe to your deck.
On the flip side, opt for antique or beach sand for a serene, neutral ambience.
If a natural, earthy setting is your preference, the teak or walnut would blend seamlessly with your idea.
The affordability mainly stems from the hollow board design, making it a great choice for small spaces or renovations.
Mid-tier Magnificence – The HD PRO Range: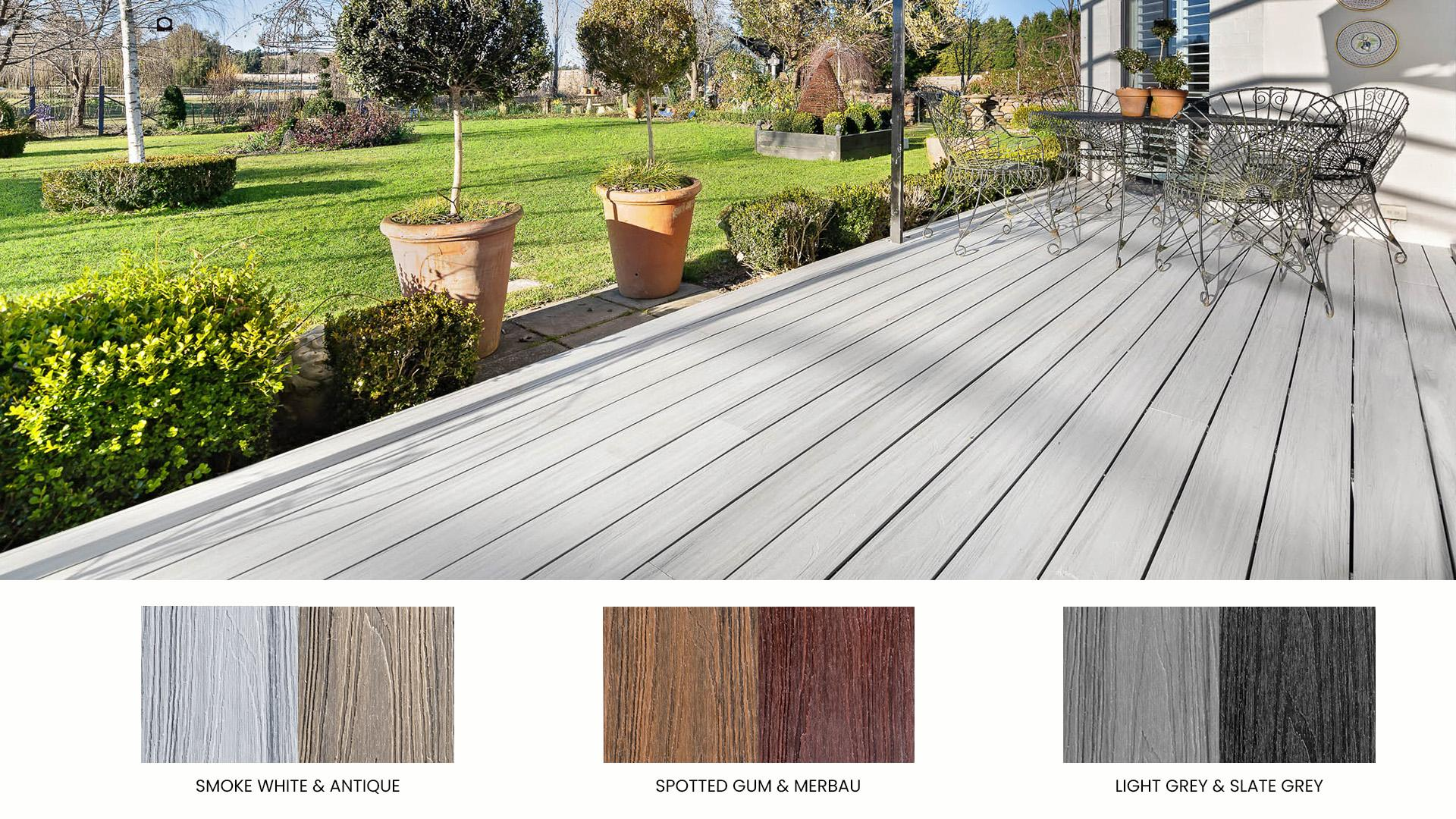 The HD PRO Range is a notch higher, both in solidity and price point, offering weather-proof, double-sided solid decking. The additional layer of UV protection keeps the vibrancy intact, even under the harsh sun. This range offers composite decking colours including:
Soothing naturals of Antique 2 and Smoke White
Contrasting slate grey and light grey.
For a closer-to-nature look, the Merbau and Spotted Gum shades mimic the natural wood colours splendidly.
Premium Panache – The Titanium Range: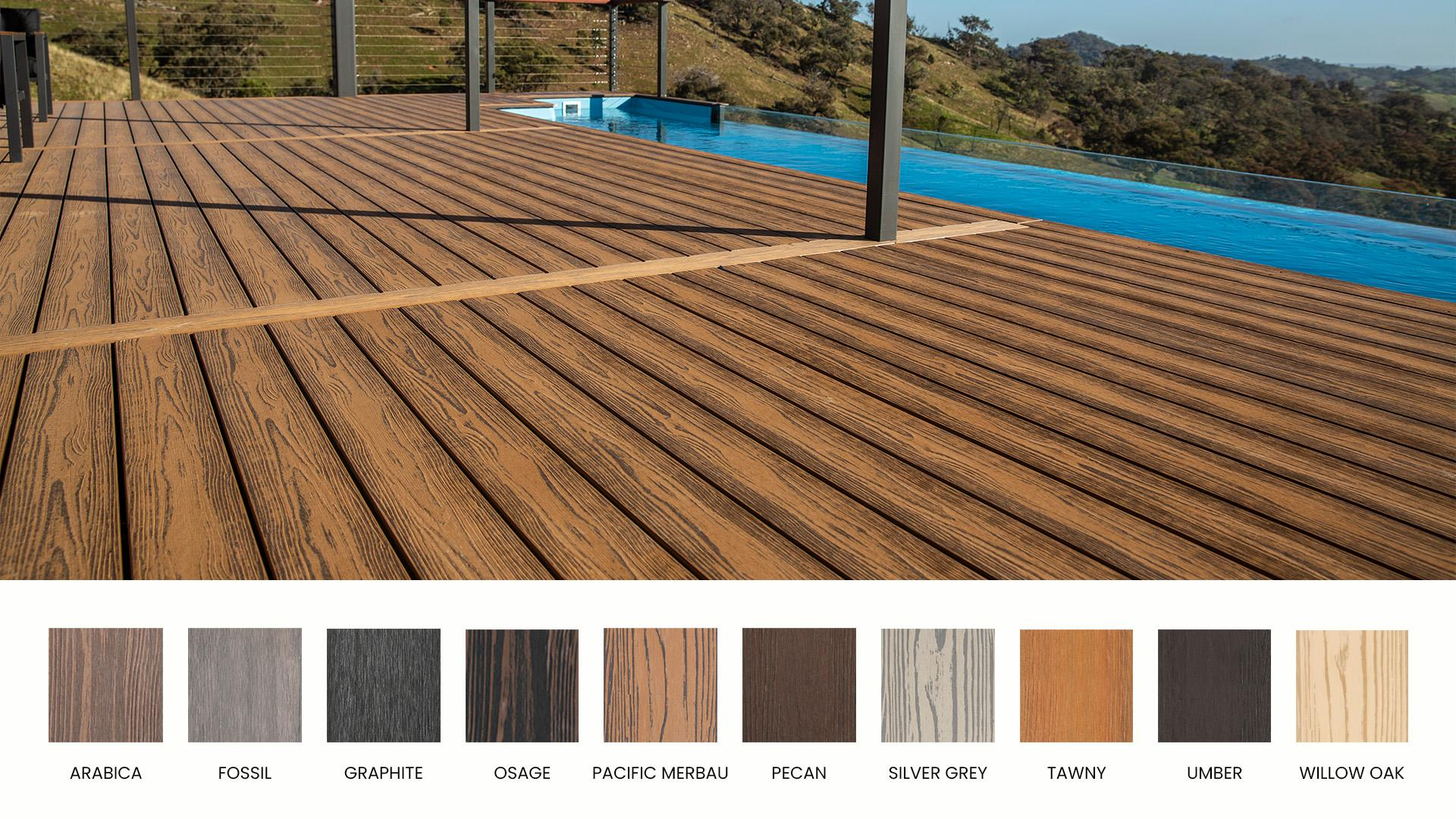 The crème de la crème of our offerings is the Titanium Range, designed meticulously to endure the Australian weather conditions while exuding luxury. This premium capped decking range boasts a realistic appearance with top-tier weather resilience, courtesy of its innovative construction featuring PVC-wood composite core enveloped in a Dual-layer ASA shield.
Composite Decking Colour selections in this range are tailored for high-end project needs, offering a large variety incuding:
Cool shades of Silver Grey and Fossil
Warm tones of Tawny and Arabica.
The Graphite shade is a standout for those preferring a contemporary, sophisticated look.
Composite Decking Colour Suitability for Various Areas:
The choice of composite decking colours can significantly impact the aura and functionality of the area. For instance, lighter shades like beach sand or light grey tend to keep the area cooler and are ideal for sun-drenched spots. On the contrary, darker shades like graphite or walnut add a warm, cosy vibe, perfect for shaded or semi-covered areas.
The Titanium range is ideal for decking in coastal properties or high UV exposure areas thanks to its robust UV protection layer. Properties in bushfire-prone areas can also find a safe and stylish solution in the Titanium Range with its BAL-29 rating.
The Brite Decking Difference
At Brite Decking, we believe in offering an array of composite decking colours to cater to the diverse aesthetic and functional needs across Australia. Whether it's the affordable charm of Urban Eco, the balanced allure of HD PRO, or the luxurious appeal of the Titanium Range, there's a colour and range ready to bring your decking dreams to fruition.
Give us a call on 1300 481 664 or request a free sample and discover how our composite decking colours can transform your outdoor spaces seamlessly.