Compared to all the work it takes to care for wooden decking materials, you can give your composite deck the care and attention it needs using a few simple tools every few months.
Follow our cleaning guide for tips on the best methods and products to keep your deck looking spick and span.
Quick tips for cleaning composite decks
As well as giving your deck a sweep off with a soft-bristled broom or blow with a leaf blower each week to gently remove food debris, pollen and dust, some more heavy-duty maintenance on occasion will keep the finish on your deck looking like new for longer.
Only wash your deck with a cleaning product that's recommended for composite decking material. Some cleaning agents, such as those with bleach, could cause damage.
If you need to give your deck a gentle scrub to remove a tough stain, always brush in the direction of the grain on the deck surface to avoid causing damage to your deck.
Using a pressure washer or power washer may compromise the integrity of your deck, so be sure to hold it at least 30cm away from the deck surface.
Avoid sanding, staining or painting your composite deck boards. They don't need it.
If you live in a cold climate and need to remove snow or ice from your composite deck, make sure you shovel in the direction of the grain.
Move plants, furniture and accessories from your deck before cleaning.
See our ultimate guide to cleaning your composite deck for more information.
Benefits of using composite deck cleaners
Composite deck cleaners can…
Prevent the build-up of grease, grime and dirt that will cause your deck to wear out more quickly
Prevent a mark from becoming a permanent stain
Help retain the beauty of your brand new deck
Top 5 cleaning products for composite decks
Unlike timber decking that needs a sand, seal or refinish regularly, composite deck maintenance is a lot more straightforward. However, you should always follow the manufacturer's guidelines during the application of a cleaning product, and check with your decking manufacturer before you resort to using harsh chemicals to remove oils and stains from your deck.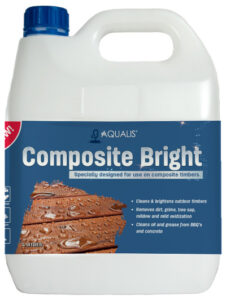 $68.20 from Aqualis
This water-based conditioner and brightener will remove dirt, grease and grime, tree sap, food stains, drink spills and oil splatter from all composite surfaces and can be used on concrete, hand rails, screening, furniture and your barbecue too.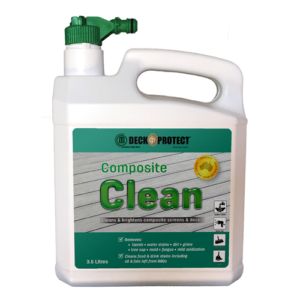 See their website for stockists
A concentrated low-suds composite wood conditioner treatment, this product is easy to apply with a clip-on hose connection. However, it can also be applied using a bucket and brush.
Its deep-penetrating formula removes water stains, dirt and grime, mould and mildew, fungus, staining from food and oil, as well as stains from tree sap and tannins, and mild oxidization. As with the product above, it can also be used around the home on outdoor furniture and your barbecue.
$17 from Mitre 10
Available in a ready-to-use formula or concentrate, this bio-degradable, fast-acting all-purpose cleaner comes in a range of sizes from a 1 litre trigger spray bottle to hose ends. You can even get a motorised power sprayer that runs on batteries if you don't have access to a hose and you need to clean a large surface such as your deck.
This works on all hard surfaces, including composite decking, to remove algae, moss, mould and mildew and contains anti-corrosion elements to stop the problem from reoccurring.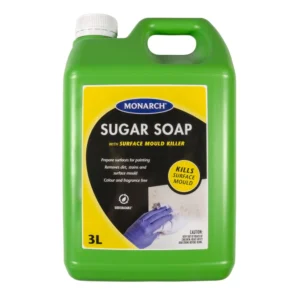 $13 from Bunnings
March sugar soap can be used diluted or undiluted for tougher stains. This is an ideal cleaner for areas that are prone to damp, mould and mildew. Its tough sugar soap formula will clean away any spill or build-up such as grease, grime and oil.
See how to deal with mould on your deck for more in-depth information on how to get rid of it.
Though mould can grow on any moist material, composite decking is less affected as it only forms on the surface. Make sure you assess your environment before building to prevent mould growth. Mould on decks can cause discolouration in various forms, so act promptly if you spot any.
5. Warm, soapy water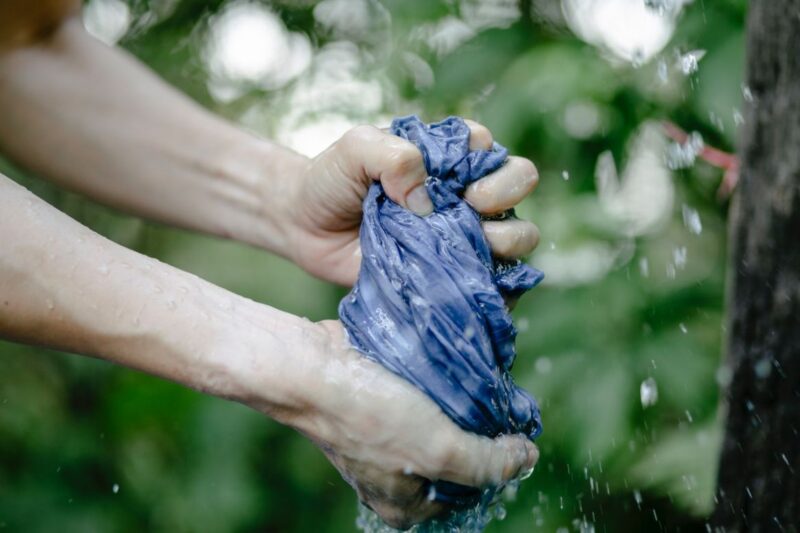 Dish soap and warm water is the most cost-effective solution to a grubby deck. It will even do the trick when trying to remove stains from a drink spill, oil or mildew. Just gently scrub the area with a sponge or soft cloth and thoroughly rinse off the soapy solution when you've finished.
Which cleaner is best for composite decking boards?
While there are plenty of composite decking board cleaners on the market, giving your deck a wash with warm, soapy water occasionally should be enough to keep it in great condition. It's also environmentally friendly, cheap and you probably already have detergent on hand.
If you do want to use a store-bought cleaning product to help with the job, be sure to check that it's suitable for use on composite decking before you begin. And if you have any questions about its suitability, simply contact our friendly team at Brite Composite Decking Solutions to find out what works best with our boards.