One of the best parts of living in Australia is the ability to enjoy the great outdoors year-round. And one of the best ways to do this is by installing an outdoor deck. A deck can add to the value of your home and take the quality of your lifestyle to the next level. It'll allow you to take in the views, unwind with a cool drink or wake up with a hot one. Adding a deck to your Sydney property will change your life in all the best ways. Over time, decks have evolved from simple hardwood structures to be more versatile, visually appealing and durable, making deck maintenance easier to manage. Choosing quality decking for your Sydney home can mean all the difference, particularly for those who live in the NSW region. 
So, what are the best materials for your deck? And what do you need to consider for your deck design? Read on to find out. 
The best materials for outdoor decks in Sydney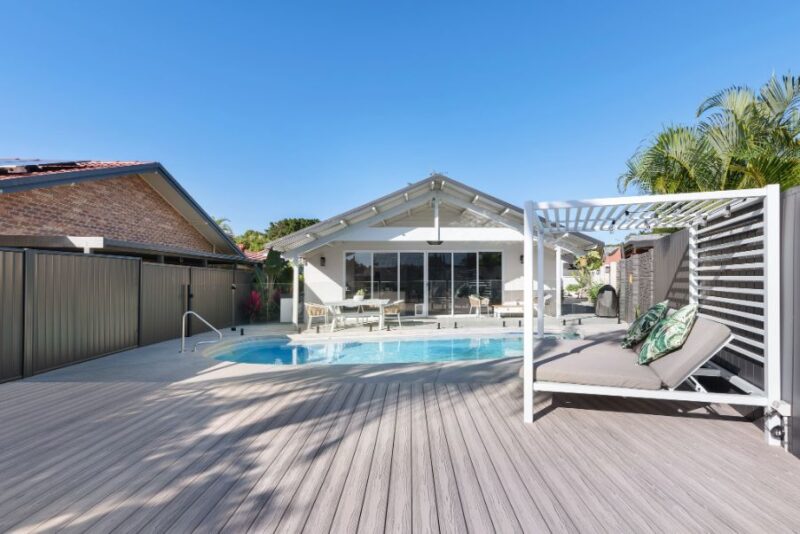 Unfortunately, the elements and consistent use often takes a toll on many traditional decking materials. Check out the following options to ensure you select the best decking material to withstand Sydney's humid climate. 
1. Composite decking
What is it? Composite decking combines recycled plastic and wood fibre to create a more robust, denser, heavier, and more durable material than wood. Perfect for anything from pool decking to small suburban patios, composite decking boards are made with colours, tones and finishes to suit the main dwelling while being very low maintenance, sustainable and comfortable underfoot. 
Average lifespan: 25 – 30 years 
Maintenance requirements: No more than a routine sweep every 3-6 months, or a general clean with soapy water when required 
2. Hardwood timber decking
What is it? A hardwood timber deck will give a classic Australian look, made from ironbark, spotted gum or stringybark. Timber decking requires time and patience from installation to regular maintenance, but its initial cost can be lower than others. 
Average lifespan: 10 -15 years 
Maintenance requirements: Timber and hardwoods are prone to mould, mildew, rot, pest infestation and weather damage, so you will need to keep a constant eye out for signs of these. Regular repainting, staining, oiling and sealing will be needed to keep the deck looking good and prevent splinters or splitting. Learn more about how to deal with mould on your deck.
3. Tile decking 
What is it? Easily installed tiles made from various wood textures such as teak or PVC. They can be placed over stone, garden beds or an old, outdated timber deck to bring new life back to the space. 
Average lifespan: 1 – 10 years 
Maintenance requirements: This really depends on the material your tiles are made with. For example, some decking tiles can't handle stiff bristles or strong cleaning products, but it is recommended to clean them often to prevent dirt and debris from settling in the cracks. The best cleaning method will depend on the manufacturer's instructions. 
Features of a well designed Sydney deck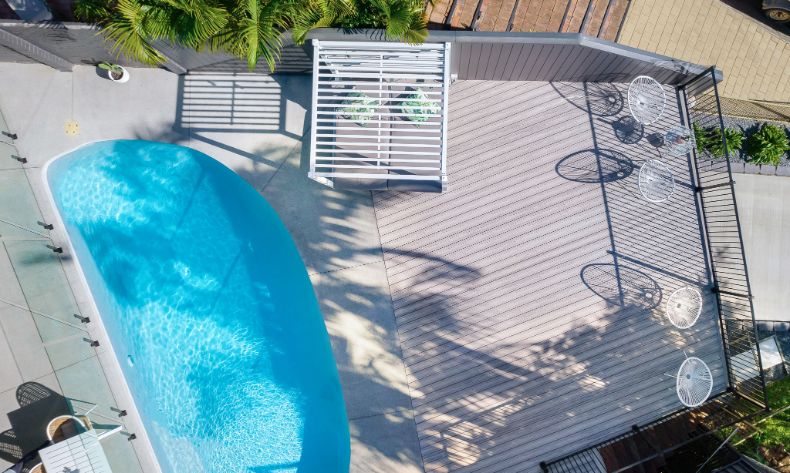 Subject to extreme elements in an unpredictable Australian climate, the performance of your deck relies heavily on its materials. Construction experts will never recommend cutting corners, whether in labour or materials, and when it comes to decking, this is even more important. High-quality materials can improve your safety, upscale the deck's appearance and give your dream deck a longer lifespan, resulting in fewer repairs and saving untold time and money in both the long and short term. 
A good deck should essentially be an extension of your existing living space. Welcoming, comfortable, accessible and weather resistant, the way you build your deck and what you build it with can make all the difference. 
The best deck design will…
1. Create wide open space 
Your deck should be as spacious as your area will allow. You will never regret having the extra space, but you will regret shaving off those few centimetres when it comes time to entertain or furnish the space. 
2. Be suited to your lifestyle 
Consider the lifestyle of your family and those who spend the most time at your house. Your deck should complement this. For instance, not everybody wants their deck to be an entertainer's paradise and would prefer a private space to lounge and unwind. Refining how you plan to spend your time on the deck can help determine things such as where to put built-in spas, sitting areas and patios, or whether you need a clear view of the pool. 
3. Feature well-spaced railings 
Again, consider those who will use your space. The wide railings might suit you, but will you be nervous every time the grandkids are around, or will your dog be able to squeeze through the gap? Choose a railing type that will suit your aesthetic and give you peace of mind when you're leaning over to feed the birds or letting the kids run wild. 
4. Be an extension of the living room 
Very few weekends will pass before you realise that your deck is becoming your second living room. With this in mind, consider how to optimise your comfort and functionality. This can include overhead lighting for security and charm, comfortable chairs you actually want to spend time in, or even rugs to make the space cosy and inviting. 
4. Be designed with the sun in mind 
Try to design your deck with a sunny and shady spot, allowing comfort and sun safety no matter the time of day. If you love to eat dinner on the deck, design it so the sun angle won't blind your guests. If you love to read in the morning, create your reading corner where it is most shady during sunrise. The beauty of deck customisation is that you really can design it based on your day-to-day life.
5. Be created with the best materials 
These days, there is a range of options to help you achieve the finish and look you're after in your deck. And when it comes to any outdoor area, be it verandas, a balcony, pergolas or your deck, you want to make sure it can stand up to whatever the outside world throws at it. This is where a strategic selection of your decking products becomes paramount, from strong decking boards to powerful LED lights and weather-resistant furniture. Not compromising the quality of your deck will pay off time and time again. 
Composite decking is the best Choice for Sydney decks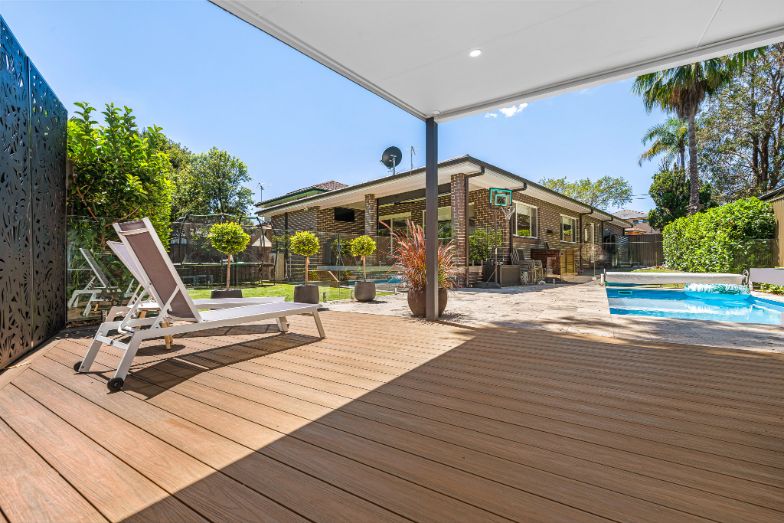 There is a reason why we have dedicated our business to composite decking in Sydney. As the most weatherproof decking material available, nothing is better equipped to handle all that NSW weather will throw at it. Available in a wide range of styles, tones and textures, composite decking can suit the wide range of architectural styles across Sydney homes, with a quicker production time and lower labour costs overall. 
The benefits of ordering composite decking from Brite Deck
Quicker installation time with streamlined sizes and fixings to make the build process quicker and lower in overall cost, being the perfect solution for investors and homeowners on tight timeframes 

Composite boards can suit a range of different colour tones to match aesthetic briefs across Sydney, from Victorian to modern, coastal to inner city terraces 

The non-porous surface is perfect for the large coastal communities across Sydney and NSW 

Unfortunately, much of NSW is prone to flooding. Hardwood decks can rot when exposed to water, however composite decking (particularly our

titanium range

) features a non-porous composite core to minimise water absorption as well as mould/rotting and other structural weaknesses. 

Our composite decking, when used in conjunction with our concealed fastening system provides a nail free decking surface, along with an excellent slip rating, providing the perfect option for pool side decking 

Our range of bushfire rated boards can provide peace of mind in areas of NSW most prone to bushfires, such as Hornsby Heights, Blue Mountains, and Katoomba. 
Think composite might be the best choice for your deck? We agree! Get in touch with our crew to discuss making your dream deck come to life with Australia's leading composite decking products. 
Call us on 1300 481 664 or request your free sample today.