There are few things Australians love more than the outdoors, and an outdoor deck is a wonderful way to experience the best of our beautiful country. Whether you are having friends over for a barbeque or just having a lazy Sunday with the family, a deck will soon become the place to be in your home. However, Australia is also a land of blazing hot days, heavy storms, and everything in between, so you are going to want to use decking boards that can stand up to the elements. That's where NextGen Titanium Boards come in!
What separates the Titanium range apart from other ASA composite decking is the focus of durability and longevity specific to Australian weather conditions. So, let's have a look at this composite decking range and learn more about why NextGen Titanium boards are the perfect choice for you.
What makes NextGen Titanium boards so weatherproof?
A key component to a successful building project is quality materials, and they do not come much better than our NextGen Titanium range. The Titanium collection is built upon a PVC composite decking core and is capped with our Dual-Layer ASA Shield. This is a material specifically designed in the 1980s by the automobile industry to withstand sun and UV exposure.
ASA has been shown to retain colour, gloss and mechanical properties when exposed to outdoor conditions and harsh weather which is why it became popular in the car industry. Our engineers have reimagined this material to create an extremely strong anti-weathering barrier for our boards. ASA can withstand extremely high and low temperatures as well as several chemicals like saturated hydrocarbons, aqueous salt solutions, weak acids and alkalis, and many oils.
NextGen Titanium core is manufactured from a carefully designed blend of recycled wood fibres and new polymer. With our patented co-extrusion method, we bond the Dual Layer ASA shield to the core to create a strong, natural-looking surface.
During manufacturing, we use a patented co-extrusion method to bond the ASA shield to the core. This process creates incredibly strong boards that will not crack, split, or warp. Splinters are also a thing of the past. Not only that, but it is resistant to staining, and fading.
Is NextGen Titanium decking more weatherproof than timber?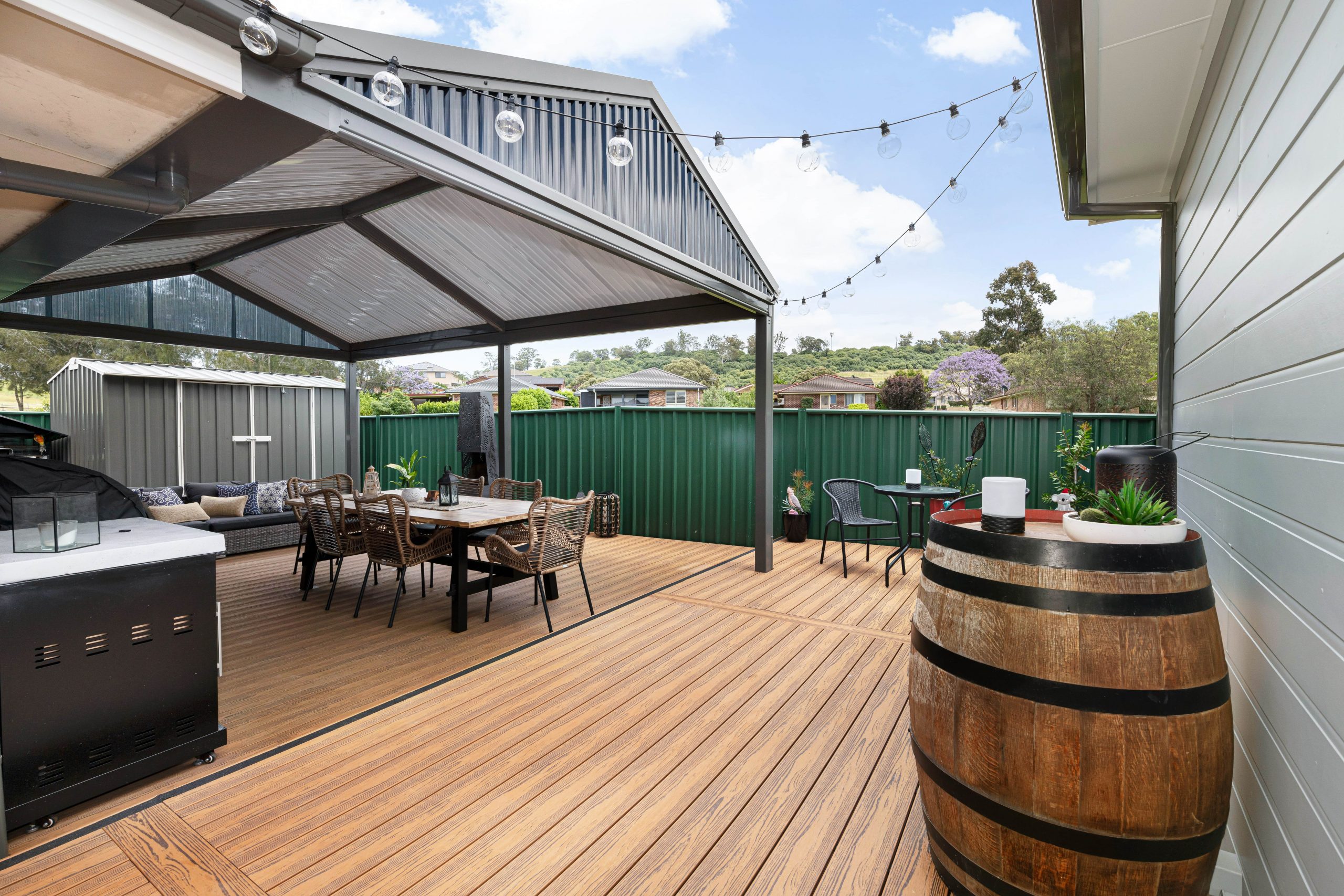 Yes, definitely. NextGen Titanium is the next big step in decking materials. It has ten times the UV and weather resistance of other floorboards and requires little maintenance. This composite decking material is resistant to termites, water, warping, rot, and fire.
When it comes to price, a premium deck will cost you between 8-10% extra, however, it is vital to consider both the short-term and long-term costs. Timber decking requires a lot of maintenance and is susceptible to rotting, termites, warping, and splintering. It is common for timber decking to cost up to $2000 a year to maintain. You do not need to get the calculator out to know that is going to quickly add up and overshadow your initial savings.
Advantages of NextGen Titanium decking boards

Durable & weatherproof
Naturally, you want a deck that will last, and NextGen Titanium is the perfect material to accomplish this. Whether it is high temperatures, low temperatures or wet weather, our NextGen Titanium is up to the challenge. 
While it is great in the short term, there are long-term benefits too. Durability means fewer repairs, which means you save money over time. Our Titanium Collection is termite resistant, which if you have seen what those little guys can do, becomes a priceless asset.
We are so confident in the NextGen Titanium composite decking range that we provide a 30-year warranty with your purchase.
Easy to maintain
One of the downsides of timber is that it requires much maintenance to keep it looking its best. In fact, timber is less sustainable than composite decking because of the additional layers of chemical stains needed to weatherproof wooden decks.
Even with all that work, timber is still prone to damage caused by severe weather, making it a frustrating material. Life is too short to spend all your time maintaining your deck. With NextGen Titanium composite decking, there is no need for oiling or staining. Its resistance to the elements means no stains or warping. Easy to look after and it still looks great? That is decking that ticks all the boxes.
Fire resistant
Unfortunately, bushfires are a real possibility in Australia, particularly during dry summers and droughts. It is therefore important to make sure your decking is BAL-29 certified. What this means is that it has been verified to be resistant to embers and burning debris blown onto your deck. This could be the difference between a fright and a disaster.
All our Titanium collection is BAL-29 certified and is built with UV inhibitors and fire retardants, making it a decking material that's specifically designed to withstand the harshest of Sydney sunny days and the coastal storms in Queensland. 
Safe
Your deck will be a place where a lot of treasured memories will be made, so you want safe material. The last thing you want is bare little feet stepping on a splinter or nail. Our boards do not splinter, and there is no risk of loose nails poking up.
NextGen Titanium composite decking is built with unmatched anti-slip technology, with a slip rating of P5/R11. which means the chances of slipping, even after heavy weather, are greatly reduced. 
How do weatherproof NextGen Titanium boards look?
While strength and functionality are key elements, we understand you want your deck to look great as well. Our designs have been based on the tastes of architects and designers and the designs they use in high-end projects.
Our range of NextGen Titanium composite decking has a fantastic natural look and comes in the following five colours:
Arabica

Silver Grey – the architect's choice

Pacific Merbau – great for a tropical look

Willow Oak

Osage
Each board has a unique pattern design, giving your deck a distinct look. Best of all, because of its durability, your NextGen Titanium decking boards will continue to look amazing for years to come.
The New Plain Sanded decking range
This is an exciting new range created to meet the demand for an ultra-performance deck with a traditional, muted sanded finish. Available in:
Tawny

Fossil

Graphite

Umber

Pecan
The New Plain Sanded range has a mono-toned appearance through the surface that interacts with light and shadow to create a more natural and neutral appearance.
Nextgen Titanium product details
Our Titanium range is now available in an ultra-wide 210mm or the classic 140mm width. The thickness of our boards is 24mm.
The 210mm is the widest board available in Australia, meaning they cover a larger area and therefore take less time to install, costing you fewer labour costs. 
Our NextGen composite decking is available in both fascia and bullnose boards.
A bullnose board (also known as an edge board) is a board that has grooves on one side and is flat/flush on the other. It is used at the edge of a deck (facing away from the property) and can be used:
To finish your deck (eg framing)

On stair treads

Bench Seating
NextGen Titanium composite decking is one of the few premium boards that can be used on 450mm joists. Its high polymer content makes it non-porous and less impacted by moisture. However, other boards have too much polymer which results in the board becoming weak. Our ASA range is a fine balance of levels between recycled wood (making it strong enough to install on 450mm joists) and polymer (allowing the core to be non-porous).
At Brite Deck, you are guaranteed to receive a premium product. We are dedicated to putting in the research and development to create products that exceed the Australian standard. We are confident our decking will last, and we back this up with the best warranty in the business.
If you are interested in our NextGen Titanium range or have any decking needs, Brite Deck is here to help. Contact our friendly, expert team today at 1300 481 664. You can request a sample or contact us by filling in our contact form.