Our Australian climate is renowned for its heat.
The hot, scorching sun that turns seatbelts into branding irons, and outdoor decks into open grills.
When planning your backyard patio or next deck project, catering to the Australian summer weather is imperative.
This is where composite decking performs best.  In comparison with other decking materials, composite decking comes out on top for its ability to deal with our blistering temperatures.
Composite decking compared to wood in hot climates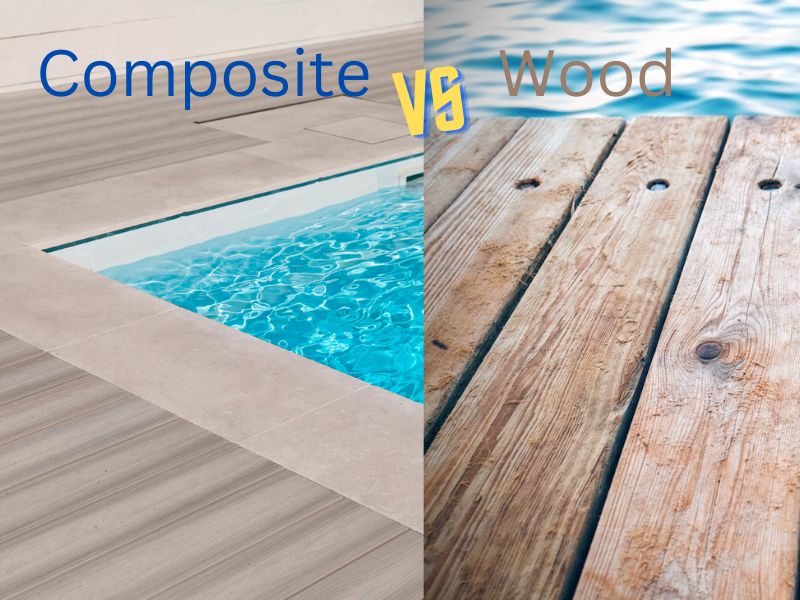 There are many pros and cons to the composite vs wood debate. Composite decking comes out on top in almost every feature, including the way they can deal with the hot summer heat.
Here are some of the ways each material deals with hot climates:
Composite decking:
Comes with UV resistant options that don't get too hot for bare feet (like our HD Pro boards with a double layer of anti-UV coating).
Is durable and requires minimal to no ongoing deck maintenance.
Is weather proof and performs well in hot or cold environments.
Comes in a range of colours, with lighter options for even more heat resistance. Though it's important to note that some ranges of darker colours, such as our BriteTM NextGen Titanium range, are made from the same material that vehicle manufacturers use for car dashboards to withstand heat, with 100% UV resistance that we highly recommend for poolside decking.
Does composite decking get hot?
Anything left in the sun long enough will eventually warm up, but composite decking boards can be made UV resistant and heat proof.  Our BriteTM NextGen Titanium range, for example, is made 100% UV resistant, meaning you can still walk on it in the heat of a summer day without burning your feet.
Standard wood decking:
Heat causes timber to lose moisture, often resulting in shrinking and splintering over time.
That shrinking and splintering can only be combated by regular maintenance, requiring you to sand and oil your deck each year.
Retains heat and can be hot underfoot, especially with darker types of wood.
What are the best composite decking boards for heat?
Composite boards are clearly the best decking material for long-lasting, durable, heat-proof outdoor spaces. With a range of heat-proof products with UV resistance, we recommend checking out these decking boards for your next project:
The Brite Deck HD Pro Decking range has a double UV shield, making it the most heat-proof decking on the market. It is additionally wet weather friendly with a R11/P5 slip rating, making it the perfect anti-slip poolside decking.
It comes with stunning wood grain textures in a range of colour options, exquisitely replicating a natural timber decking look.
With easy installation, low maintenance, and additional bushfire-resistant technology, it's the easy choice for high-temperature, sun-exposed decking spaces.
The Next Gen Titanium range of decking boards is made by Australian designers specifically to be weatherproof. They are waterproof and UV resistant, making them the perfect outdoor decking option for Australian decks and patios.
The technology and materials used to develop these boards are the same used by the automobile industry to develop car dashboards that can withstand constant sunlight without fading, cracking or warping.
What's the best decking for a bushfire-prone area?
Hot decking boards are just one of many challenges the harsh Australian climate brings with summer. For some families, bushfires are a very real and terrifying threat.
If you are building a new deck, pergola, patio or outdoor space in a bushfire-prone area, our Next Gen Titanium boards are designed to be fire resistant, making them bushfire safe.  Additionally, you might like to consider our Flame Protect Bal 29 boards. They are another ultra durable product that comes with heat resistance and increased longevity in comparison to its timber decking equivalent.
Composite decking revolutionises your outdoor area
Your beautiful new deck is likely somewhere you want to be able to spend your afternoons entertaining family and friends. Summer afternoon BBQ's and lunch time gatherings are all iconically spent on the porch with mates.
Composite decking boards make outdoor entertaining even better, without having to worry about grilling your guests' feet if they try and walk around barefoot. In fact, composite decking will be your summertime best friend if you add it around your pool area, making it an easy solution for the otherwise hot-coal-like walk along the timber deck equivalent!
Making the switch to composite
If you have concerns about how natural the composite boards will look after installation, don't worry – you aren't the first to question the comparison of composite to other natural timber decking products.
We love hearing customers' responses when they receive their samples. People are often pleasantly surprised at the wood grain textures and variety of colours on offer.
Combining that with easy installation and low maintenance, composite decking boards become the obvious choice for heat-prone Australian decks.
Contact us today on 1300 481 664, or request your free sample today.