Australians love the outdoors – our climate is perfect across most of the country most of the time and BBQing is an integral part of our culture. As such, decks have become an essential addition to the Australian way of life thanks to their ability to provide a perfect bridge into nature and a comfortable platform for easy entertaining.
Whether you use your deck to exercise within your natural surroundings, celebrate with family, wine and dine with friends or drink your morning coffee – a home with a deck is bound to have more beauty and relaxation than ever before. Where your backyard once sat barren and neglected, a deck brings a new purpose and charm to your space that will inspire you and excite your guests.
At Brite Deck, we are lucky to install decks all around Australia, and through our travels, we have picked up endless inspiration for combining nature with composite decking to bring out the best of both. Thanks to the environmentally friendly properties of a composite deck, a connection to nature doesn't have to stop at your tree line.
Some of the best ways to use nature to improve and enhance your decking include:
The Comfort of Warmth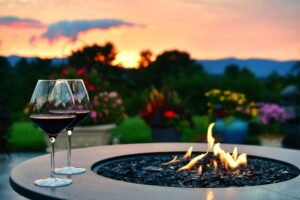 There is nothing quite like sitting by the fire or hearing it crackle away in the background. There are many creative ways to include fire in your deck design, from a traditional standing fireplace to a sunken pit or even a hanging bowl. Adding a firepit or a heater to your space will make your deck comfortable year-round and will ensure that you get the most from your composite decking.
If you live in heavy bushland or an area prone to high wind, a heater will be a safer choice, and these days – many are designed to look like the real thing.
Check our Flame Protect Bal 29 boards.
The Beauty of Plants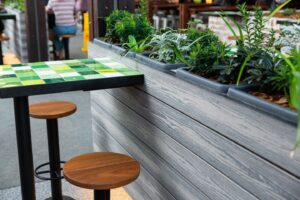 Plants are one of the best ways to integrate nature into your deck and can provide the foundation for a completely new garden. We've seen plants placed on top of, around or even within decking areas to create beautiful yet practical works of art or to create privacy, provide natural shading and bring colour to your space.
Planter boxes are a beautiful and efficient way to display your favourite flowers in an organised manner that makes them easy to care for and stunning to look at. If your deck is off your kitchen or you're lucky enough to have an outdoor kitchen, herbs and vegetables thrive in planter boxes positioned in the best spot with the right amount of sunlight.
Pot plants allow for versatility of swapping and changing for whatever reason or season. Placement can create entirely different environments. A pot plant on each corner of your deck can create dividers for an outdoor dining area, or a row of grown pot plants can create a lush wall of privacy. Pot plants can be large or small to create privacy and can be as practical as growing a small fruit tree or a gorgeous bonsai to tend to as the years go by.
The Charm of Natural Materials
Including natural materials such as stone, bamboo wood and rattan will go a long way in complimenting the style of your composite wooden decking. You can take this a step further and create a natural moss, succulent or vertical wall of plants to make your deck breathe with natural life. By including natural materials to create reading nooks, dining areas, play spaces and even storage, you will be creating a cosy, sustainable and stunning deck that will last for years to come.
The Relaxation of Water
There is little as tempting or enjoyable as an outdoor spa. The joy of custom designing your composite decking means that you can plan for the outdoor spa you've always dreamt of to spend the nights watching the stars.
Fountains are another water element that adds to the relaxing vibes of your deck. Fountains are available in many different styles, shapes, and sizes to add to the unique qualities of your backyard. Whether you're wanting to attract different tropical bird species to your yard with a bird feeder, add a waterfall fountain for more Zen, or improve the aesthetic appeal of your space, a fountain is a fabulous way to achieve this and more.
One of the things we are most proud of at Brite Deck is our ability to create sustainable, environmentally friendly decks that will stand the test of time and look stunning while having little impact on the Earth. Our use of recycled polymer and timber creates decking that is highly resistant to even the most extreme weather, long lasting after years of use, low maintenance with no need to perform regular staining, oiling, or sealing, is safer to use and looks cleaner overall. Composite decking blends seamlessly with the surrounding environment to create a stunning combination of man meets nature.
Experience the difference that composite decking can make to your space with Brite Deck's unique engineering and expert designs. For your free sample or to receive a quote, give us a call on 1300 481 664, and you can experience the best of nature from your very own backyard.