Outdoor living is an important part of Australian lifestyle, and a deck is one of the best ways to enhance your outdoor experience, improving the function, accessibility and style of the space. Aussies typically treat the outdoor area like an extension of their main home, an extra living space to enjoy day to life and special occasions. With the ability to add extra value to the lifestyle and the future sale price of the home, it's important to consider the style of your deck just as you would the lounge-room or kitchen. 
We've put together some of our top ideas to upgrade and beautify your deck, so you can get the most of your space year-round.
Create a vertical garden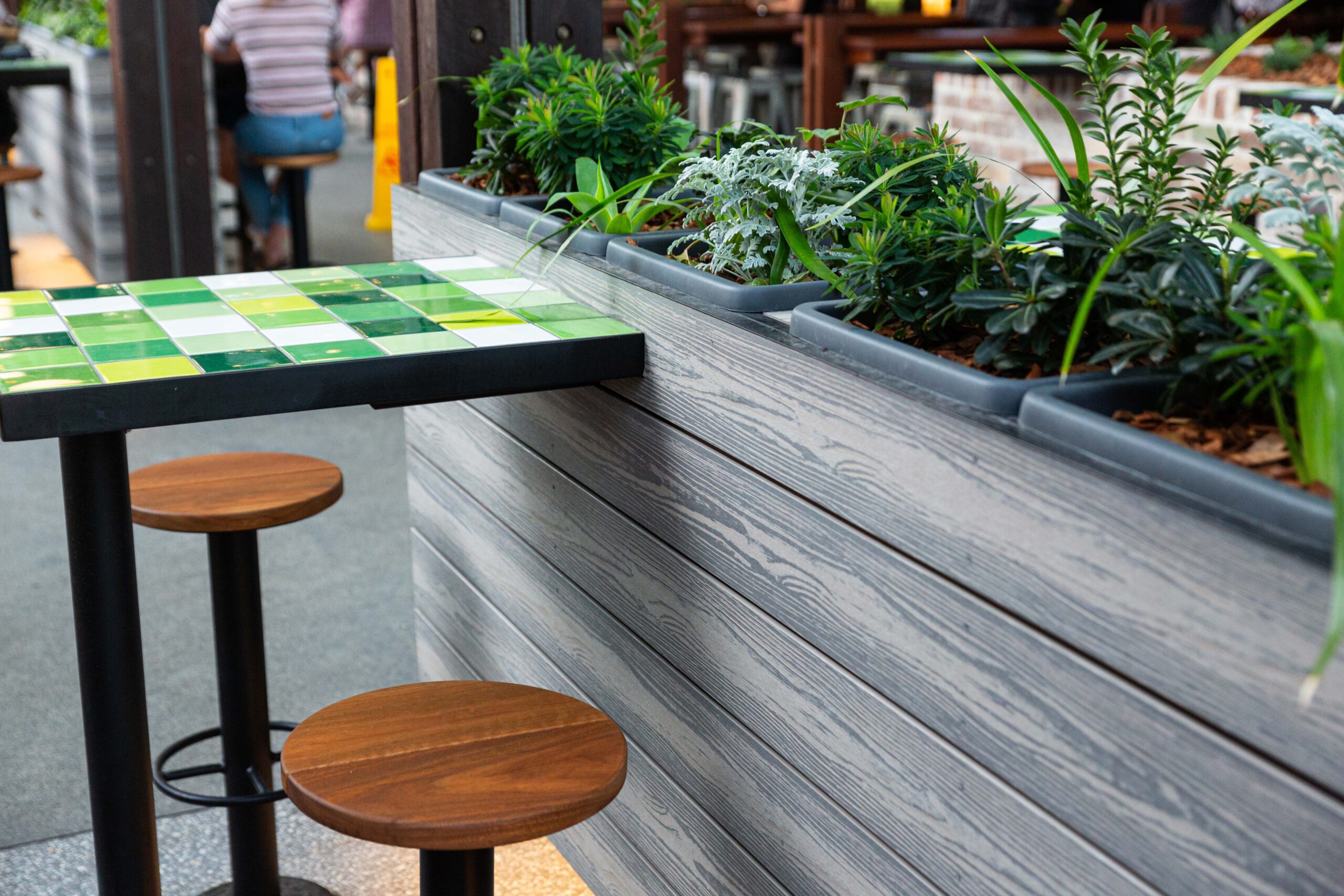 Some deck owners are concerned with pot plants impacting their deck with mould or dirt, or they don't want to take up BBQing and relaxing space with plants. Vertical walls can bring brightness and colour to your outdoor space, and they can add function with vegetables, herbs, flowers and even medicinal plants. Vertical gardens can be installed in even very small spaces, and they can be very simple to maintain with the right plants for your climate. 
Make the most of your windows
Nothing brings the outdoors in like a floor to ceiling window or door. Connecting your deck to your bedroom or living space with windows can make the mornings brighter and the nights more mystical. Adding a servery window, bifold doors or sliding doors onto your deck is one of the simplest and most effective ways to upgrade your outdoor space. Innovative technology such as smart glass and remote-controlled blinds can make your view accessible right on cue. 
Consider the lighting & heating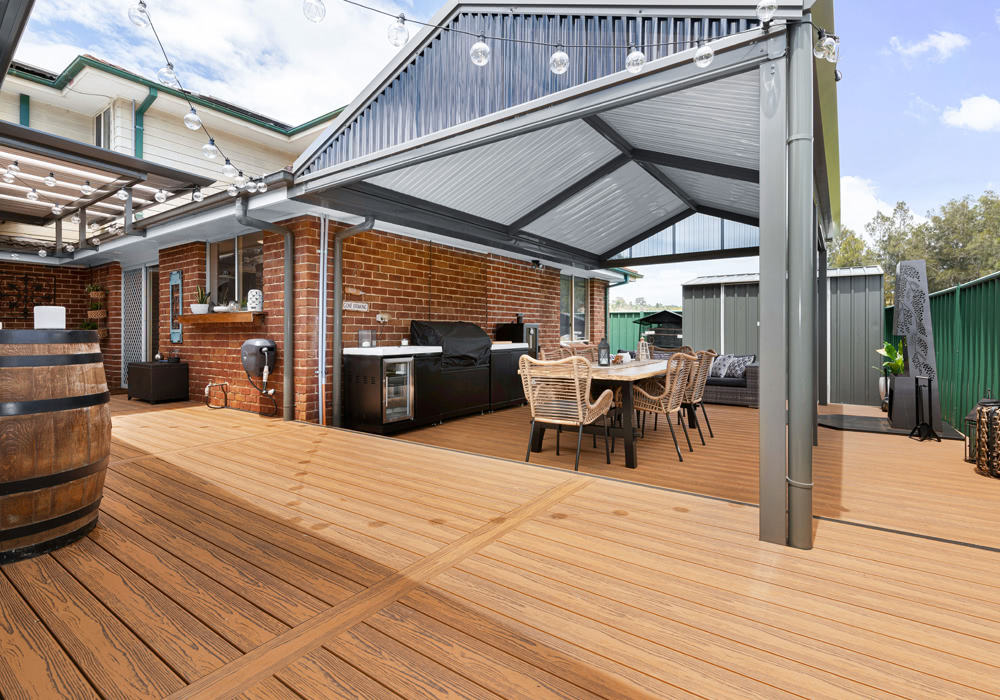 Something as simple as fairy lights can add charm and comfort to your outdoor space, illuminating your dinners and providing a perfect base for long lunches that turn into evening festivities. If you live in a particularly cold part of the country and want creative ways to make the most of your outdoor patio, a chiminea or portable heater will offer easy comfort to your guests. Store some blankets in a basket, flick on your lights and turn the heater up, and you're in for the ultimate night spent under the stars. 
Add a pool deck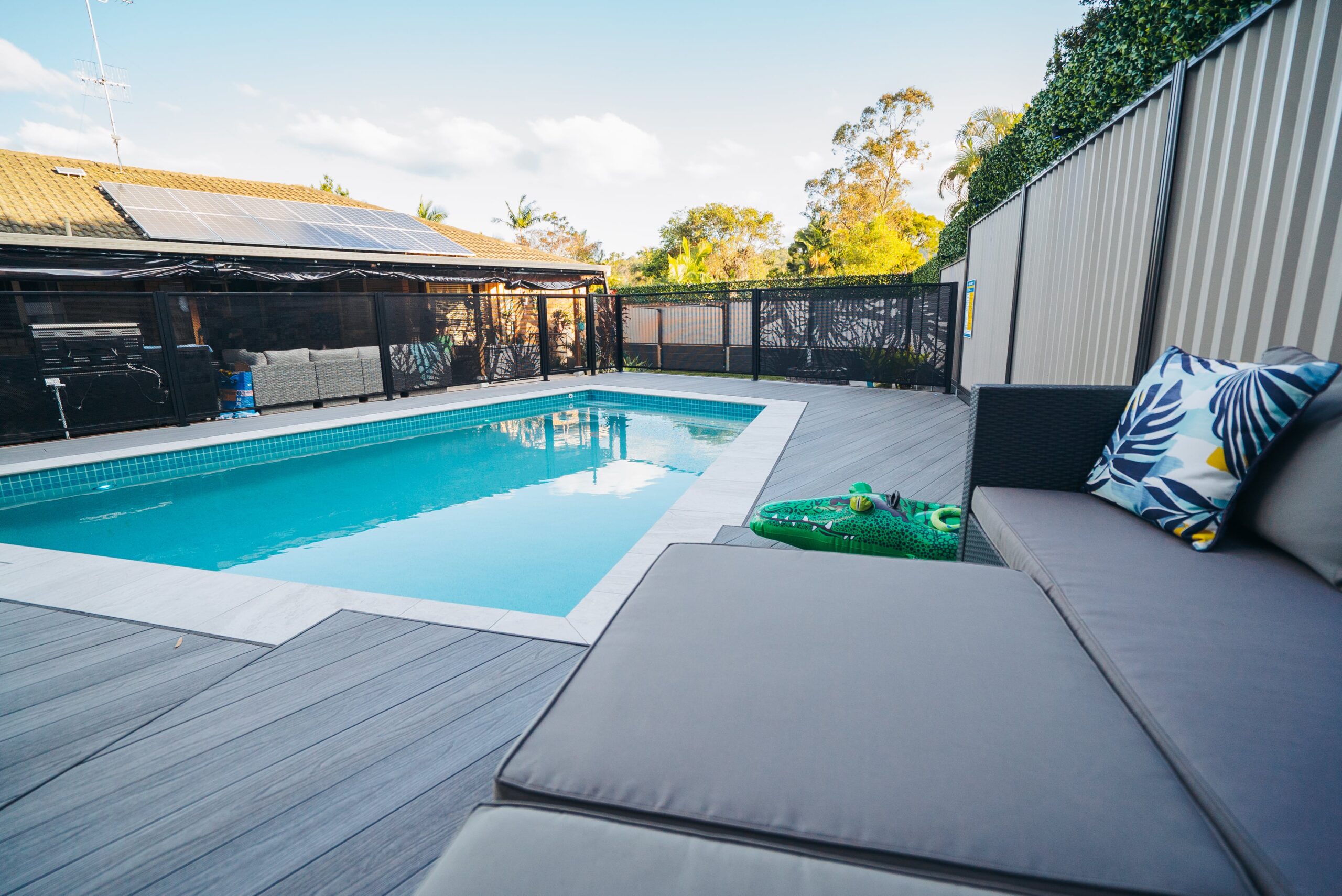 Lounging around the pool is simply not the same without a pool deck. Composite pool decks add safety, slip resistance, heat absorption and style to the pool area, while giving the family a place to relax and unwind. Composite boards are perfect for around the pool area thanks to their moisture resistance, freedom from nails or splinters, and their customisable aesthetic appeal. 
When building your pool deck, never settle for lower quality. This will not only ensure that your deck design is luxurious, it will also allow your deck to withstand high temperatures, exposure to salt and chemicals, and high levels of moisture. Pool side chairs, outdoor storage boxes and umbrellas will find an easy home on your deck, adding to the comfort and convenience of the space overall. 
Install a pergola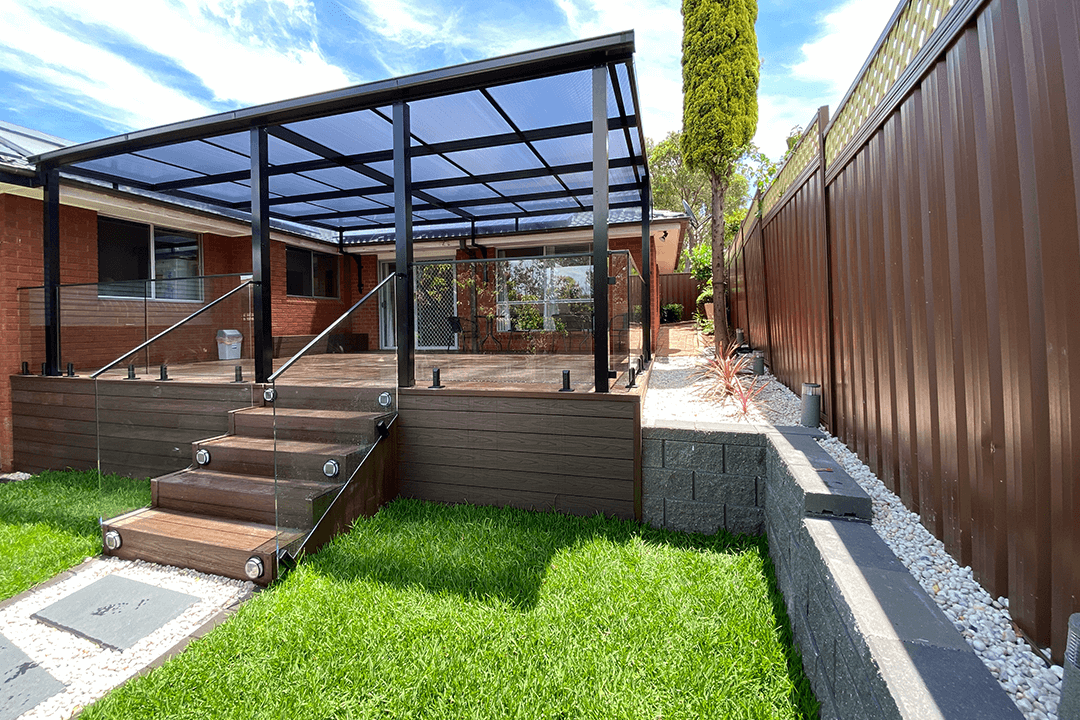 Once you've beautified and optimised your deck, you will likely want to use it year-round. A pergola is the perfect solution. A pergola is a structure with a roof that can match that of the main property or be created with heat absorbing colorbond. 
Pergolas are a perfect way to shield from the hot sun and harmful UV rays, the rain or even next-door neighbours, offering constant privacy and comfort. Even though composite decking is low maintenance in nature, adding a pergola roof may make the deck last longer between cleans with tree and animal droppings kept at bay.  
Be inspired by your property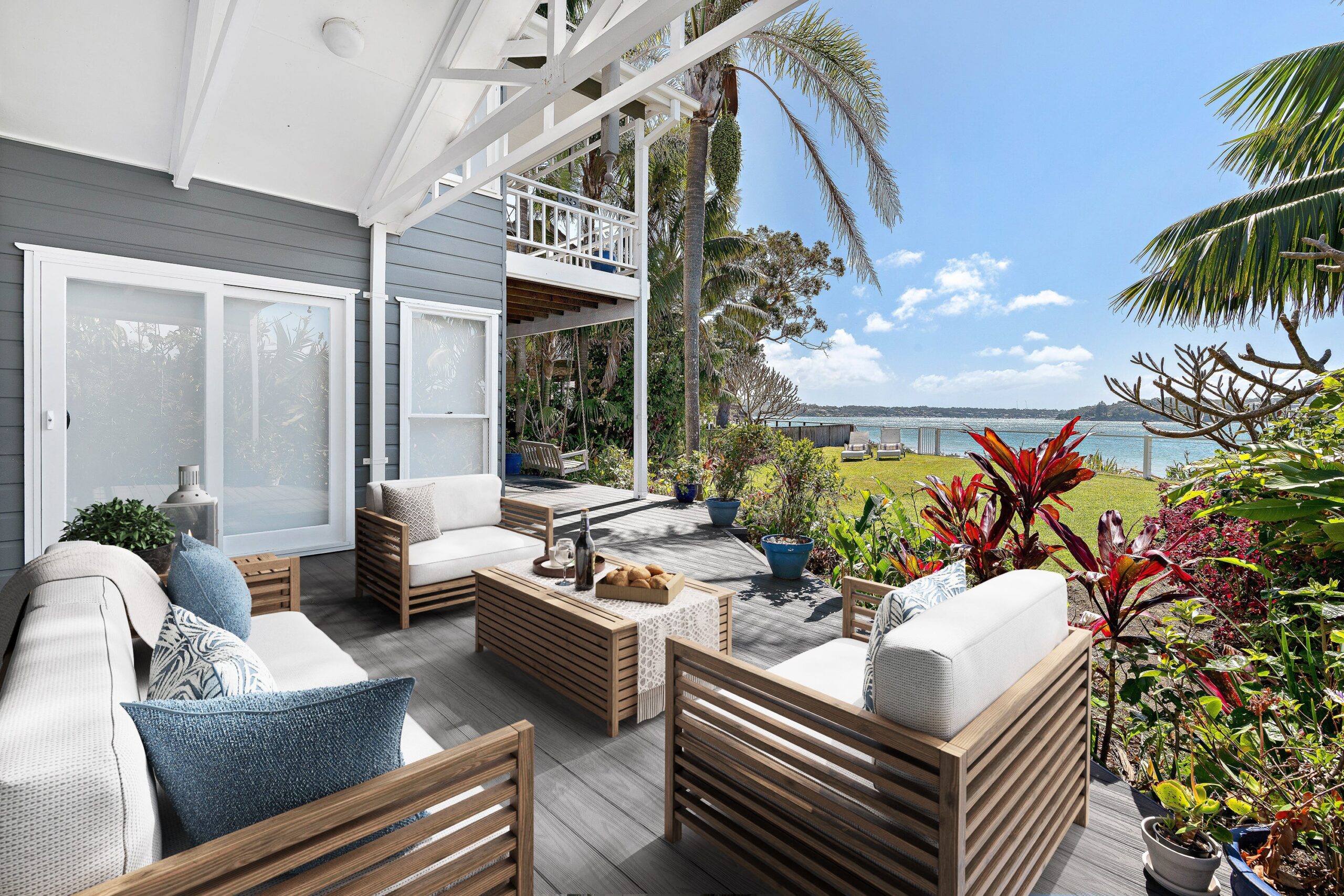 With composite decking, the space doesn't have to be flat, square or even symmetrical. Even sloping gardens can have decks with multi-level designs and different zones for eating, relaxing and storage. Backyards with large trees can have the trees incorporated into the deck to give natural shade and a unique charm. 
The layout and style of your property can provide unique inspiration for your deck design, offering a greater impact of the view, more functionality to the main home and accessibility to the parts of your garden that you enjoy the most. 
Plan your furniture well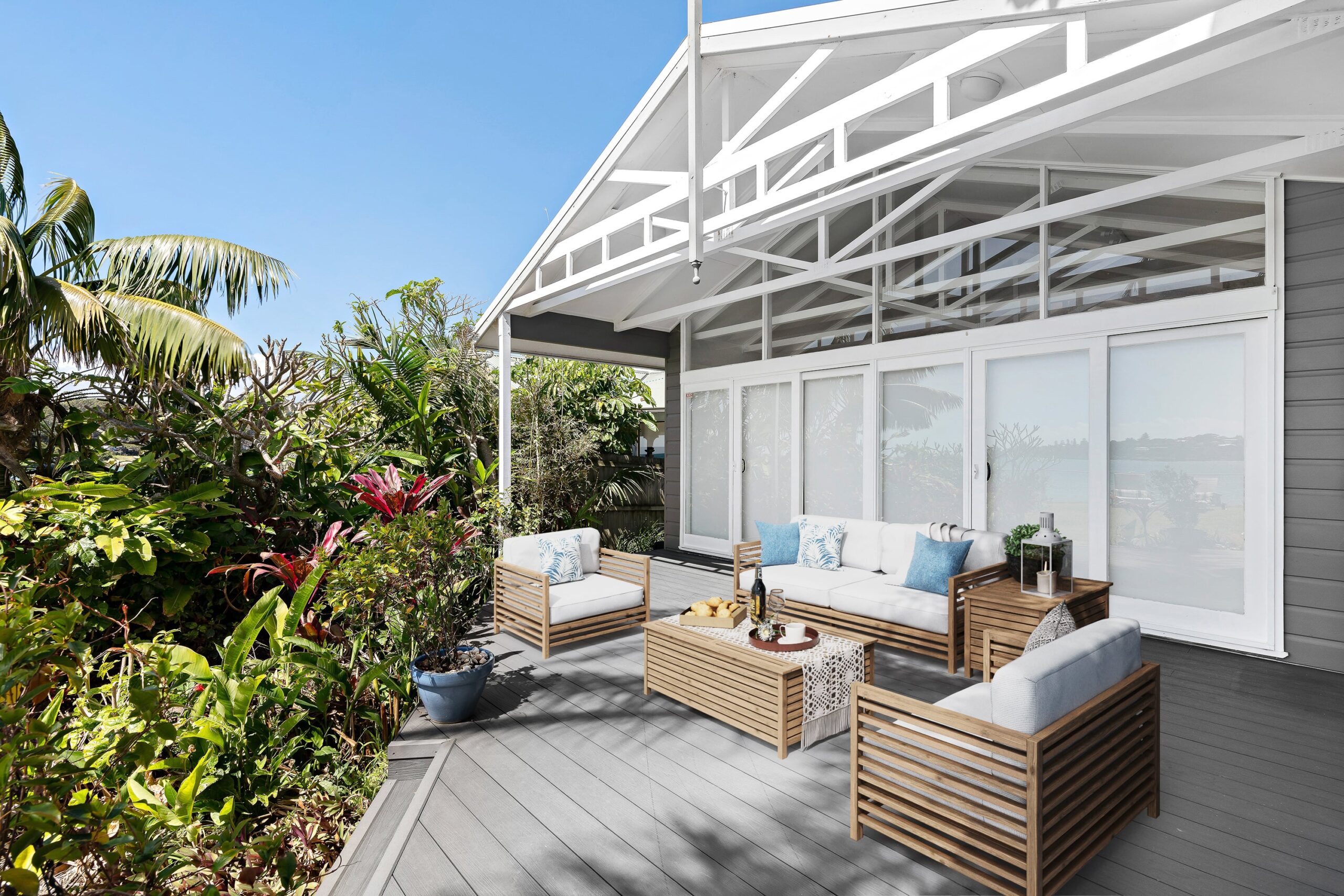 One of the simplest ways to improve the look and functionality of your deck is to consider the furniture's layout and appeal. A stylish and well-planned alfresco area can provide relaxation and entertainment to your everyday life. Outdoor furniture comes in a range of shapes, sizes and styles to suit the many ways that families use their decks. 
A good rule of thumb is to position the eating area, such as the outdoor dining table, close to the doors or servery windows of the main home. This will make mealtimes simple and cleaning up a breeze. If you have a particularly large deck, adding outdoor couches, a hammock or swinging chair, a BBQ, a dining space and even a comfortable rug to relax on can make your deck as functional as can be. 
The Composite Decking Difference…
Composite decking is quickly overtaking wooden decking as the popular material of choice in Australian backyards. Their innovative composition is environmentally friendly with recycled plastic and wood fibres, and can they last for decades. Composite decking requires almost no maintenance and will not fade as quickly or need sanding and staining as years go by. Composite decking provides a wonderful solution for easy styling, long term quality and comfort under foot, making it a great tool for upgrading your outdoor space. 
Our team has been providing high quality composite decking for Aussie families since 1999, and we are passionate about making premium products available at the best prices. As the leading pioneers of composite decking in Sydney, we are excited to help bring your outdoor space to life, making your home a hub of lifestyle and relaxation. Contact our experienced and friendly crew today to discuss bringing your composite decking dreams to life.